Hire a Mr. Drain
With Trust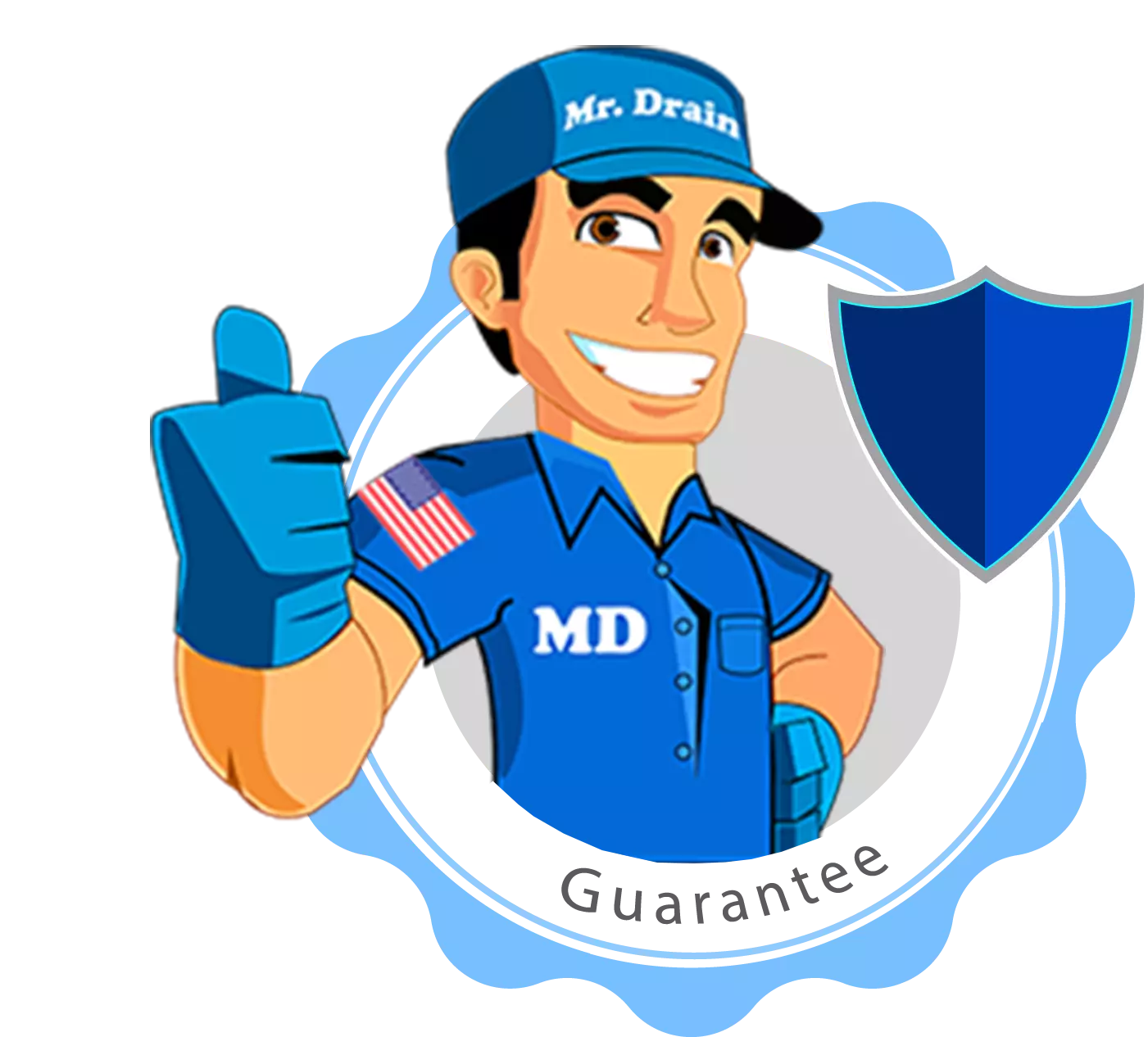 Work performed is covered under Mr. Drain Guarantee.
Only licensed, insured and screened pros.
Pay after work is done
100% customer satisfaction guaranteed.
100% money back guarantee.
Upfront prices with always free estimates.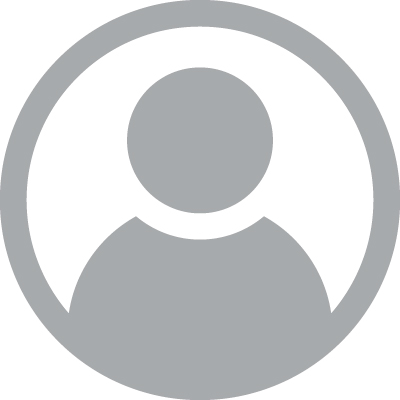 Mian Ahmed
Professional Plumbers in San Jose
I had an excellent experience with Mr. Drain Plumbing of San Jose. Mian and his team arrived on time, and they were professional and knowledgeable. They quickly diagnosed and fixed the issue with my water heater installation, and they also repaired a pipe in my garage. The pricing was very fair, and the work was done to a high standard. I would recommend Mr. Drain Plumbing of San Jose Ca to all.
First call will fix all ®
Mr Drain ®

Hydro Flush ®

Do You Have re-occurring sewer problems? Do you have A Sewer Back up Emergency or Do You Face Slow Drain Problems? – Are you looking for Hydro Jetting Service? Does Your Toilet Make Gorgeling Noises When You Flush the Toilet? – Are You Looking For a Drain Or a Sewer Hydro Jet Contractor – Do you Want Emergency Sewer or Drains Hydro Jetting Service? - OR- You are Looking for Emergency Plumbing Company Who Is Licensed, Insured, Local, and Available 24/7? Then the search ends.

We are here for any Drain or Sewer Hydro Jetting Service – Emergency Plumbing − Emergency Drain Cleaning – Plumbing or Drain Fix – Plumbing or Drain Repair and Installation, Mr. Drain ® Plumbers are Emergency Plumbers with availability 24 Hours a Day 7 Days a Week.
Sewer or Drain
Hydro Jetting

Experts Are Always Here

The first step that any home owner takes when he or she have a clogged drain is to snake out the drain line. Most of the times a regular snake works, but some time the snake don't work the reason is the solid gunk, grease and sludge build up in the pipe for years which was never cleaned and flushed. There you need Mr. Drain ® Plumbing to Hydro Jet the clogged drain using Mr. Drain ® cutting-edge Hydro Flush ® drain cleaning technology. Our plumbers are always here 24 Hours a Day 7 Days a Week for any plumbing or drain service.

Our team can tackle your drain clogs and cleaning needs with our advanced Hydro Flush ® jetting services. We perform fast, effective, and reliable drain cleaning services that leave your plumbing system flowing smoothly and efficiently again.
Project Portfolio from the
Mr. Drain
Mr. Drain ® Plumbers

carry 20+ Years
of Plumbing Experience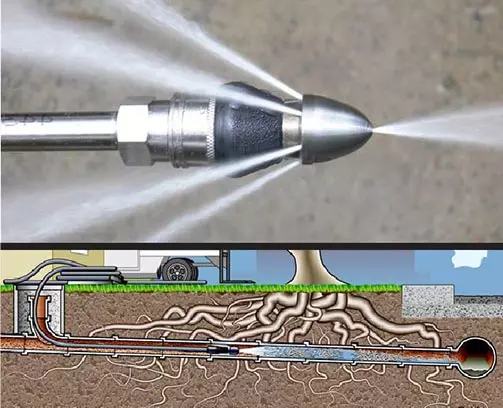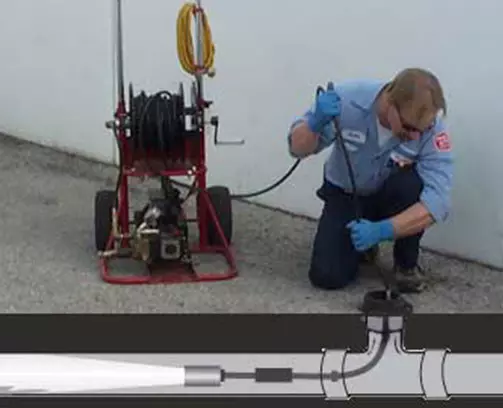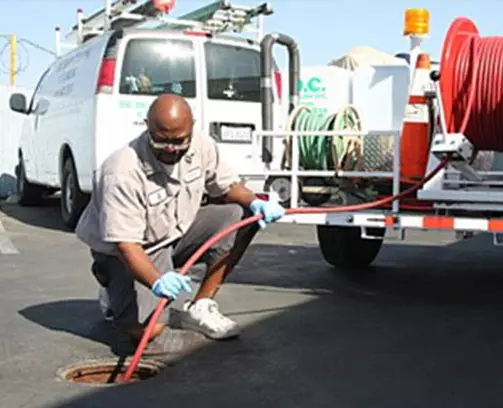 What is Hydro Jetting?
Hydro-jet cleaning is a method of cleaning drain or sewer lines with high pressure streams of water to remove build up and debris in drains and sewer lines. When we talk about hydro jetting the drain or sewer lines it means to wash the drain or sewer lines at a minimum pressure of 1800 PSI to maximum pressure of 7000 PSI per minute using water as liquid. Hydro jetting just means cleaning the drains and sewers with extreme water pressure. Hydro jetting is different from snaking or other types of drain cleaning because it requires heavier equipment and has to be done professionally.
Hydro-jetting is a sophisticated process that uses a combination of high speed / high pressure water to clear blockages and buildup in pipe systems and is typically the first approach to clearing chronically blocked lines. Excluding the possibility of a collapsed line, hydro jetting will solve the problem and thereafter routine maintenance will keep the lines free and flowing properly. Maintenance of this sort is optimal in ensuring that build-up or grease will not cause eventual blockages that could result in a line breakage requiring more drastic and expensive remediation.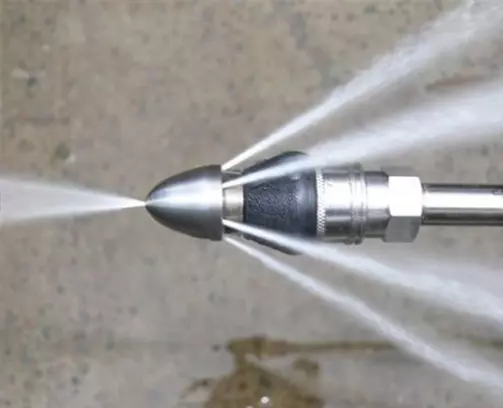 Why
Hydro Jetting or Hydro Flushing ®?
Hydro jetting is a process that uses high speed/high pressure water to clear and scour blockages in pipe systems.
The Mr. Drain ® Hydro Flush ® is consist of a large water tank, high-pressure hose and strength nozzle, and a machine that pressurizes and controls the flow of water. The HydroScrub® nozzle is placed at the clean out, the part of your plumbing system that allows for the removal of debris.
The nozzle creates enough pressure to cause it to pull itself through the pipe when cleaning the drain.
HydroScrub® is propelled forward by up to 3500 psi of water, helping to clear a path for debris to flow down into the sewer.
It is typically the best approach to clearing severely blocked lines. Hydro jetting will solve the problem, and when used as part of your routine maintenance solution, will keep your sewage and septic lines free and functioning properly. The technique of hydro jetting can be used in practically every industrial setting where cleaning and unclogging pipes is required. Maintenance of this kind will minimize eventual blockages that can result in a line breaking, which may then require more expensive and time consuming repairs. Our high-pressure pipe cleaning service successfully cleans tough blockages. It is especially useful when traditional snaking methods are ineffective. With the ability to break through pipeline debris, concrete slurry, tree roots and miscellaneous refuse, the hydro-jet unit is suitable for safely clearing storm and sewerage drain lines.
What is
Hydro Jetting or Hydro Flushing ®?
Hydro Jetting is a process in which your sewer pipes are scoured by streams of high-pressure water shooting out of a hose at up to 7000 psi. Hydro Jetting is typically done through an opening called a cleanout, which is an accessible opening present in every plumbing system and designed to allow plumbers to easily "clean out" debris and other clogs. Hydro Jetting can easily cut through the most stubborn roots and debris and remove built-up mineral deposits and other obstructions clogging the inside of your drainage line.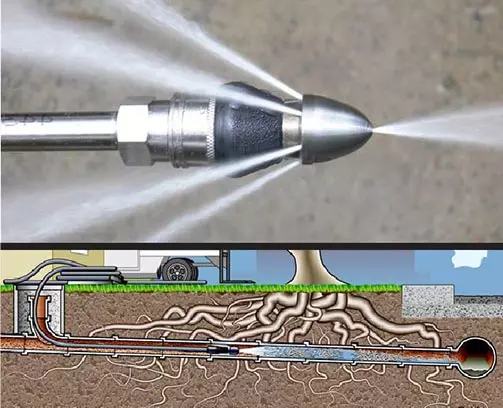 Hydro Jetting can easily cut through the most stubborn drain clogs and remove built-up mineral deposits and other obstructions clogging the inside of your drain pipes. These high-pressure streams are strong enough to cut through and clear out any debris in your sewer lines. Hydro Jetting is an appropriate solution when clogged drains cannot be cleared through traditional snaking or rooter service.
When sewer line clogs or stoppages become frequent and costly, it is time to take further action and stop paying for monthly calls to clear the drain or sewer line. Repairing the damaged section of piping, or possibly replacing the entire line are your best options at this point, as mostly there is no guaranty when your drains will get clogged again, however, Mr. Drain ® Plumbing warrants the drain or sewer line hydro jetting process.
Our Experts are available 24-7-365 to repair or replace any problems you have in your sewer. Call or schedule an appointment today you don't know when the sewage can back up in your house and can turn into a disaster that you don't want in your house.
Mr. Drain ® runs with UTZO
How It
Works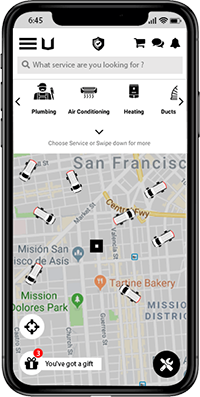 1
Find Mr. Drain ® near you. Pick any service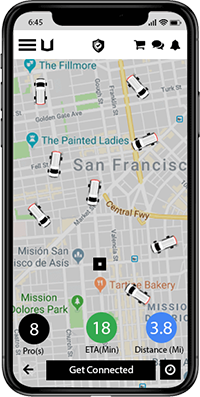 2
Connect to Mr. Drain ® in Under a MINUTE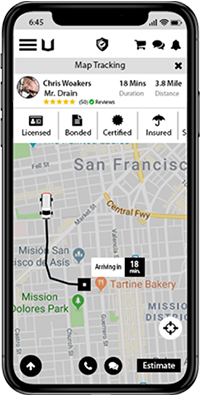 3
See En-Routed Mr. Drain ® With Real Time ETA
Valid Until: Never expired
Mr. Drain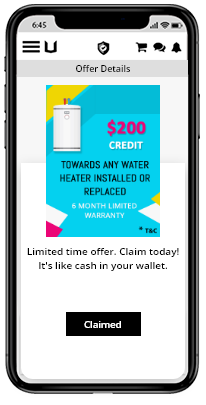 4
Claim unbeatable deals and discounts offered by Mr. Drain®
WHAT WE OFFER
Available for
24/7 Emergency

Service
SKILLED & TRAINED PROFESSIONAL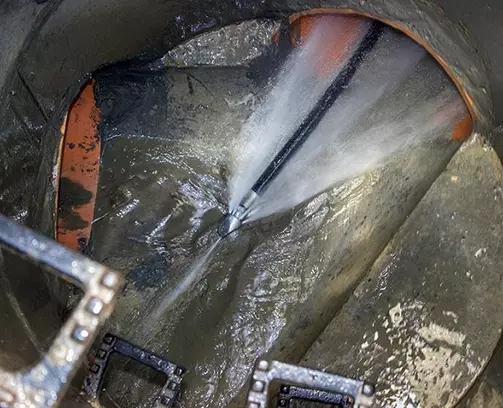 Mr. Drain ® Hydro Flush ®

Is Better Than Cable Methods

Unlike snaking or rooting the hydro flush process uses high water pressure to clean pipes removing all build-up that has accumulated inside the pipeline. To prevent your main lines and drains from clogging. To remove pipe build-up for extended periods hydro jetting is highly suggested to be done once every 3 to 9 months. Similar to human arteries, the more oily and greasy foods we eat our arteries are more likely to become clogged compared to someone who does not consume oily and fatty foods.
Hydro jetting pipelines cleans the interior walls and eliminates waste build-up that has accumulated over time. A typical rooting service can only poke through the blockage and within a few weeks, the problem arises over again. The hydro jetting process involves inserting a high-pressure stream of water flowing at 15-18 gallons per minute into the pipelines to clear waste build-up.
Mr. Drain ® Hydro Flush ® will remove scum stuck to the pipe walls that a typical rooter snake machine cannot do
Emergency Sewer or Drain Regenovation with
Mr. Drain ® Hydro Flush ®
Although most drain pipes in your home can be cleared with a standard electric drain snake, there are times when that just isn't enough. Hardened grease deposits and rust can reduce the interior of drain pipes causing persistent stoppages. A standard electric drain snake may only clear a small path through the problem, leaving the pipe vulnerable to another stoppage. Only the power of hydro jetting can insure that the pipe is not just unstopped, but is cleaned to a nearly new condition.
When it comes to sewer line repair and maintenance, you want to be sure that the sewer repair or replacement is done correctly. A sewer line that has not been installed correctly or properly maintained can cause major problems in the future. A clogged and backed-up sewer line can result in backup and major damage to your home or business.
Mr. Drain ® Plumbers has a team of the most experienced plumbers in your area to help you professionally address all sewer issues. Mr. Drain ® Plumbers are local in your area and with UTZO app they can be connected in under a minute. We have the latest tools, experience, and abilities to complete any job quickly and professionally.
Being the industry leaders, we go above and beyond to ensure the job is done correctly. We offer around-the-clock, emergency service seven days a week, so you can count on the job getting done on your schedule right the first time. We understand that your time is important, which is why we make it a priority to be available 24/7 for you day or night – rain or shine.
Common Causes of
Sewer line Damage
Poor sewer pipe layout, design, and/or installation
Poor maintenance
The buildup of hair, debris, grease, sludge, oil, toilet paper, etc.
Tree roots infiltrating sewer pipe holes / joints
Regular ground freezes / thaws
Earthquakes, nearby earth movement, heavy construction nearby, etc.
Wear and tear from aging
Backup from a city's sewer lateral
Signs of the
Broken or Collapsed Sewer Line
In reality, any type of sewer pipe regardless of the make and material it's made of, can break due to the extreme inner water and outer ground pressure.
Strange gurgling noises coming from the toilet(s)
Lack of water in the toilet(s)
Slow draining shower or bathtub or not draining at all
Sewage backup in the toilet, tub, or shower
Sewer odor in your basement, yard, or other areas of your property
Significantly greener grass near your sewage pipe
Flooded front or back yard
Flooded toilet
Broken Sewer Line

Solutions

A major sewer emergency or a plumbing disaster never waits for a time to hammer. An emergency can happen late at night time, early in the morning when you are just about to leave for work, or right before or during a very major event. These emergencies can be in the form of an overflowing toilet or sewage backing in the tub or shower or other sewer-related issues. While your property layout and sewer system are unique, there may be some basic issues that we can address. These are some of the most common repairs and replacements we perform: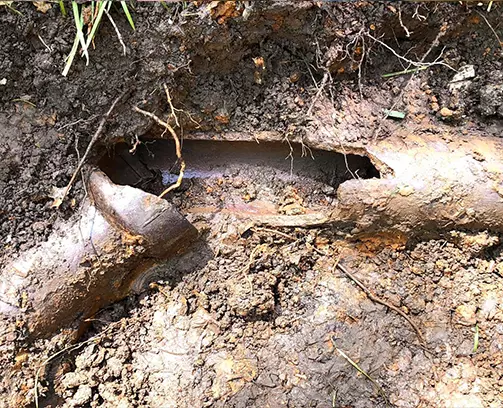 Pipe relining: The latest innovation in pipe repair. It molds a new pipe right inside your old pipe without digging trenches. A great option when the problem is under patios, driveways, streets, or other areas under heavy utility areas. We can also re-line existing sewer pipes by inserting a "sleeve" to prevent pipe cracks. First, we'll clean out the pipe. Then we'll apply the lining, which will harden in just a few hours.

Pipe Bursting: Also a trenchless sewer replacement option. Replaces your old damaged sewer pipes by winching through a device that breaks up the old pipe while pulling a new pipe in behind it. No major digging is required. Makes a great option for very long stretches of pipe or when the existing pipe is too deteriorated to be used as a host for pipelining.

Preventive Sewer Line Maintenance: It's very important to help prevent sewer line damages from occurring in the first place. With regular Mr. Drain ® inspections and drain cleaning services, you can keep major debris and buildup out of your pipes and avoid cracks, clogs, or bursts. This will keep the sewer line flowing without interruptions

Excavation: Traditional dig and repair method. There are two basic types:

Spot Repair: a small dig that often provides the best option when the problem area is easily accessible, confined to one spot, and the remainder of the pipe is in good condition.

Open Cut: a trench is dug to replace a stretch of damaged pipe when circumstances won't allow trenchless pipe lining or pipe bursting methods.
Local Mr. Drain

® Plumbers are a tap away.
You have your options 24/7/365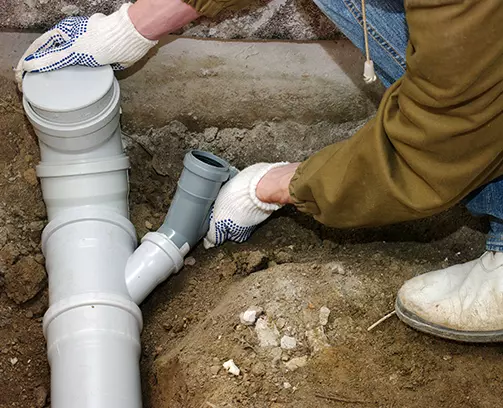 Sewer Line

Replacement

Chronic sewer stoppages in your home are not only inconvenient they can allow harmful contaminants to be released into your home that can potentially harm you and your family. Historically, homeowners who realized they had issues with either root intrusion or faulty sewer pipes would attempt to alleviate the problem by systematically clearing the sewer on a preventative basis or repair the defective part of the sewer line.

If repair is not possible, it may be time to schedule a sewer line replacement. Fortunately, at Mr. Drain ® Plumbing, we are available at your convenience to explain your options, review the problem, and show you exactly how we can fix it.
You can trust us to meet your needs and not oversell you on an unnecessary product during any replacement procedure. Our trenchless repair and replacement methods are less invasive than traditional methods and won't tear up your lawn or landscaping. With very minimum yard damage we can convert the old sewer lateral to a new one in few hours. They're also more cost-effective than other methods! We have repaired and replaced thousands of sewer lines and work diligently to save you time and money on sewer line service, repairs, and replacements.
Always Upfront Pricing ®
Never an extra charge for nights and weekends ever
Professional and courteous Mr. Drain ® Plumbers
Every Mr. Drain ® is Licensed, Insured and Bonded
Every Mr. Drain ® is Background Checked and Screened
With Mr. Drain ® It Drains or It's Free ®
With Mr. Drain , ® First Call Fixes All ®
Punctuality is Reality Here ® at Mr. Drain , ®
Exceptional Services Guaranteed ® at Mr. Drain ®
Call Us Today!

Our Truck might be in your Neighborhood

Plumbing experts at Mr. Drain ® are available 24/7 around the clock. We know heaving an emergency plumbing or drain problem is not what you want and wouldn't be the pleasant experience and our service experts will do the best to quickly and professionally solve any plumbing or drain problem. Mr. Drain ® is the best Rooter Service in your area save time and save money and make that call to Mr. Drain ® today.

Contact Your Local Mr. Drain ® Plumbing Today to Schedule a plumbing Service And

Free In-Home Inspection of your Whole House Plumbing & Drain System.
Local Mr. Drain

® Plumbers are a tap away.
You have your options 24/7/365