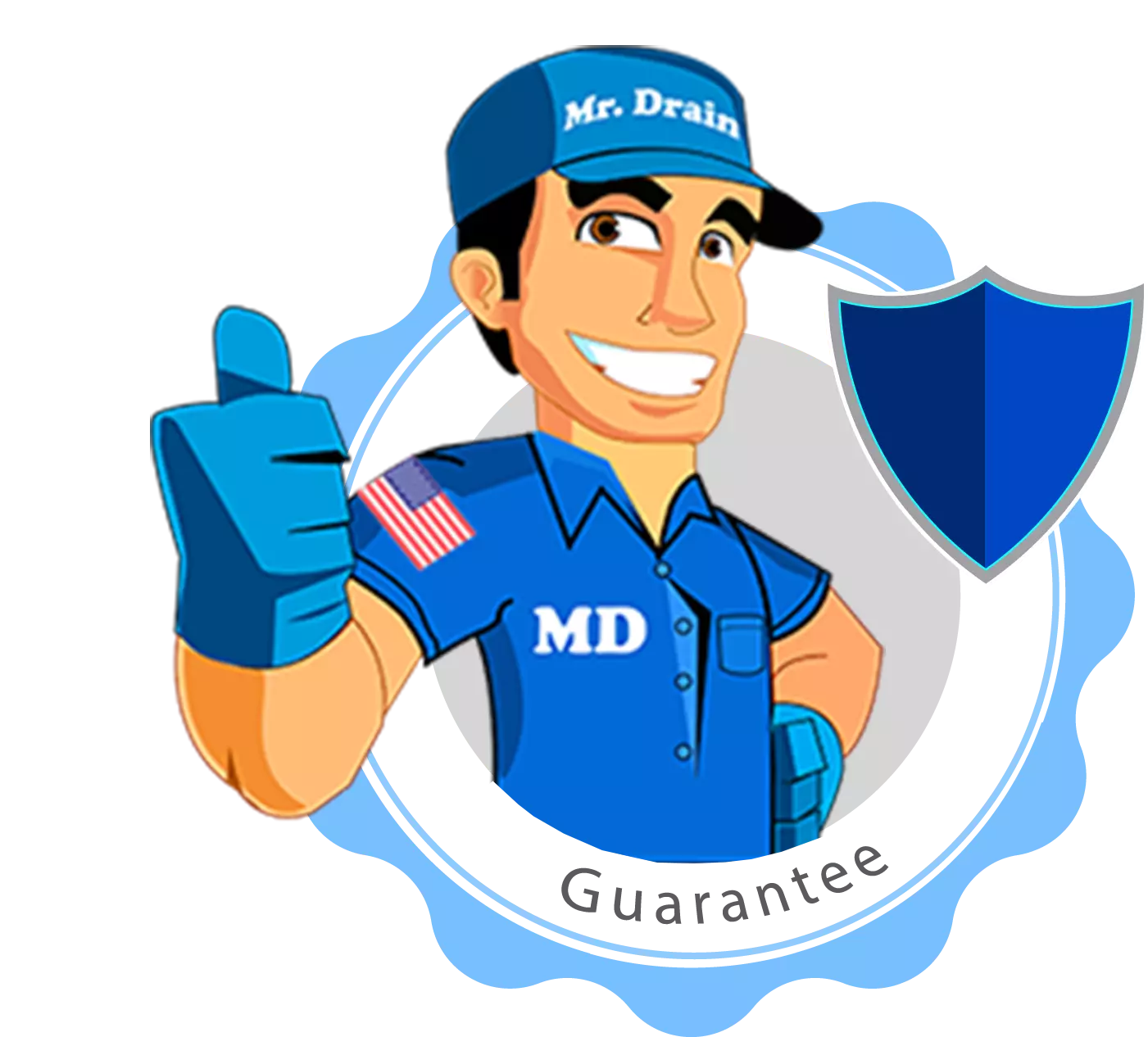 Work performed is covered under UTZO Guarantee.
Only licensed, insured and screened pros.
Pay after work is done
100% customer satisfaction guaranteed.
100% money back guarantee.
Upfront prices with always free estimates.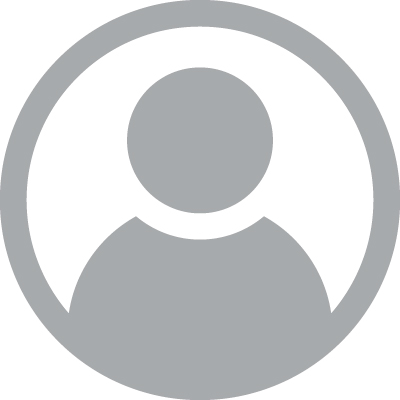 Tracey Sherry
Highly recommend
Great, quality service always! This is why the Plumbing Pros is the only company we use. Thank you Mr.Drain plumbing highly recommend to all
First call will fix all Ā®
Mr Drain Ā®

It Flows or Itā€™s Free Ā® Punctuality is Reality Here Ā®

Does Your Sewer Keeps Backing Up? ā€" Is Your Sewer Line Over Flowing In The Driveway? ā€" Is The Water Or Gas Leaking In The Yard? ā€" Do You Want To Get Rid of Tree Roots From Growing In The Sewer Line? ā€" Do You Want To Replace The Water, Gas, Or Sewer Line By Trenchless? ā€" Do You Need No-Dig Sewer, Water, Or Gas Line Replacement Service? ā€" Do You Want A Pipe Bursting Service? Do You Want To Replace, Water, Gas Or Sewer line Without Digging? ā€" Do You Want A Trenchless Service For Sewer, Water, And Gas Lines? ā€" Want an Emergency Plumber? āˆ' Looking for Trenchless Experts? Or Want a 24 Hour Plumber? ā€" Are you looking for Pipe Burst Service?

Do You Have A High Water Bill? - Is Your Water Line Leaking In The Driveway? -Do You Want To Replace The Waterline By Trenchless? - Do You Want To Replace The Water Line Without Trenching? - Do You Want A Trenchless Service For Water Line? Are You Looking For A Reliable Licensed Trenchless Contractor? Are You Looking For Affordable Trenchless Water Line Service?

If you have a high water bill or frequent water leaks then you should replace the waterline with trenchless or pipe slicing. There may be a possibility the water is leaking somewhere in the front yard or driveway. A Mr. Drain Ā® Pipe Slice Ā® technology is used to replace any water line by trenchless with very minimal damage to your yard and landscape. We are available 24 Hours a Day 7 Days a Week. We are here for any kind of Trenchless Water Line Repairā€" Trenchless Water Line Replacement and We are The Licensed And Insured Trenchless Water Lines Contractors. The emergency Trenchless Water Line Contractors with 24/7 Service is one call away.
The Easiest ā€" Quickest & Cheapest
Trenchless Water Line Replacement

From Mr. Drain Ā®

If you notice a water pressure drop, water discoloration, or a wet soggy area develops in your yard. There are many reasons why your water line may require repair work. Waterline problems can be the result of tree roots growing around the water line and pressing the line to the point that it breaks, mineral build-up and residue, high water pressure, ground movement, acidic soil conditions, freezing, and thawing plus general deterioration of the water pipe over time. Water main line problems are sometimes worse than sewer lines. These water mains will need to be replaced due to the age of the pipes. Mr. Drain Ā® Plumbing has years of experience in repairing and replacing water mains. Mr. Drain Ā® Plumbing experts not only can repair the leaking or broken pipe but also have the art of replacing the water main line without breaking the driveway or digging trenches.
Project Portfolio from the
Mr. Drain
The
Problem
The water lines leak and break when they corrode rust and break. Following are some of the major reasons why water lines break, crack or leak:
Broken, Cracked, Offset or collapsed water pipe
Damaged pipes due to the shifting of soil
Damaged pipes due to weather effect on above and bellow earth pipe
Frozen ground, settling
Rust or Algae build up in the water lines
Bad color and odor because of rust
Leaking joints from connections and straight run
In case of PVC cracks and breaks due to heat and hardness of the material
Tree or shrub roots have invaded the water line
Break, Leak and Crack in case of metal pipes after some passage of time
Mr. Drain Ā® Plumbers

carry 20+ Years
of Plumbing Experience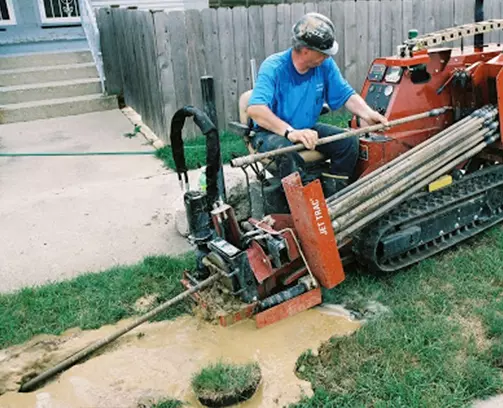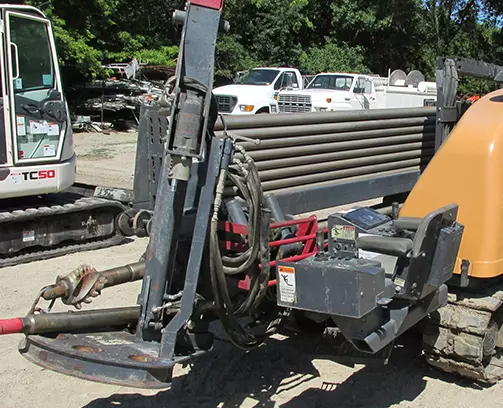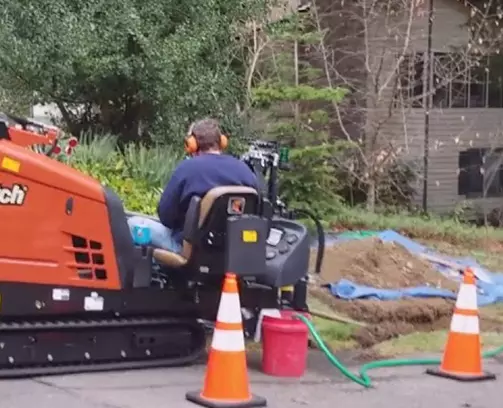 Mr. Drain Ā® Trenchless Water Line Solution Near Me
The word "TRENCHLESS" means no trench or doing something without trenching and digging. There are many terms used for Trenchless Water Lines Replacement like ā€œNo-Digā€ water line replacement, ā€œTrenchlessā€ water line replacement, "Trenchless Water Pipe or Water Line Rehabilitation", "Pipe Breaking", water line replacement by "Pipe Slicing" "Trenchless Technology" and "Trenchless Pipeline Replacement". No matter which name it is going by it simply means splitting an old, worn-out pipe while inserting a new water line at the same time!
This can be the process of repair or replacement of sewer, water and gas lines without opening a trench. It does not mean that trenchless does not require any digging or trenching at all, still the access points are dug to insert new pipe. Trenchless pipeline replacement can save yard, landscaping, or rockery from being disturbed. It also allows for the water line replacement in areas where it is not accessible to excavation equipment and would otherwise have to be dug up by hand or by heavy equipment. Mr. Drain Ā® uses Pipe Slice Ā® Trenchless technology also called " Pipe Slicing " and ā€œHydro Drillā€ technology to replace any size water lines from size 1" to 4". As the name implies, stands for subsurface construction works where fewer trenches or no continuous trenches are required to be dug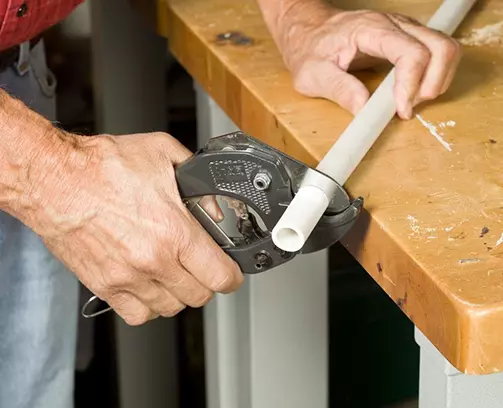 Mr. Drain

Ā® Pipe SliceĀ®

This process involves inserting a new water line from the old pipe. In this process, two holes are dug one by the inlet and one by the outlet. A pipe slice head is attached to the new line which is pulled with a hydraulic puller. The new pipe is inserted following the old pipe. The pipe slice head keeps on slicing the old pipe and the puller keeps on pulling the new water pipe until the pipe slice head comes to the outlet point. Once a new pipe is inserted the equipment is removed and the connections are made.
Mr. Drain Ā®

Hydro DrillĀ®

The other process in which Mr. Drain Ā® specializes is Mr. Drain Ā® Hydro Drill Ā®. In this process, the two holes are open one at the inlet and one at the outlet side. The old water line is left in the existing trench and a new hole is drilled using water. The drill bit keeps on drilling and a new pipe is being inserted until it arrives to the receiving point. Once the new water line is inserted the equipment is removed and the connections are made.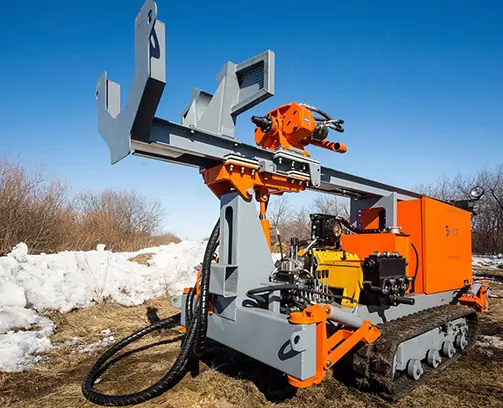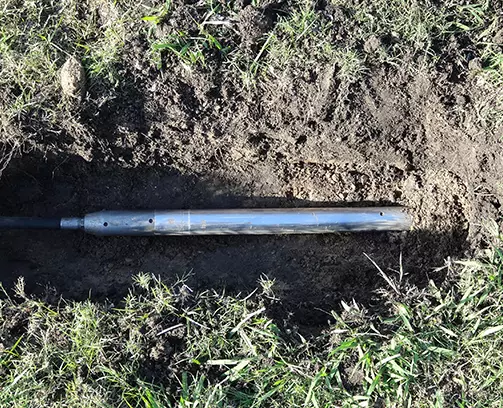 Pneumatic Piercing
or

Bullet Process

This process involves repairing or replacing the water lines by line piercing, boring or drilling using the bullet kind of tool. An underground piercing tool is also known as a boring tool. It is air-driven and typically used when soil conditions make tunneling by hand difficult. Like other Mr. Drain Ā® trenchless processes this method also involves digging two holes one on each side. This tool is air-powered and has a piston inside the body that pushes the head forward and drives the tool itself into the soil.
Once the bullet arrives at the outlet point its pulled back and the new water line is attached and a new pipe is pushed through the new bore or tunnel made. Once the new water line is inserted the equipment is removed and the connections are made.
In both above processes, the material used is either a Soft Copper Tubing, Type ā€œLā€ Copper Tube or SDR Polyethelene water line. SDR Polyethelene lasts more than 50 Years as this material is most durable and has higher resistance. The landscaping is then restored to its condition how it was before when the work was started.
Benefits of Water Line Replaced By
Mr. Drain Ā® Trenchless Water Line Replacement

Technology

Mr. Drain Ā® trenchless water line repair or replacement brings the following benefits:
No damage to the landscape
No damage to the concrete area
No damage to driveways
No damage to asphalt
Lifetime warranty of no further leaks
Stability to withstand subtle ground movement
Saves time as most cases job is done in one day
Great savings over traditional methods of repairs
Very minimum yard damage
The new pipe can be upsized to twice the size of the old pipe
Always Life Time Warranty On
Sewer, Water or Gas Line Replaced

by Mr. Drain Ā®

After Mr. Drain Ā® Plumbing has performed the trenchless process on your pipe system, the work is lifetime guaranteed or as long as you own your home. This guaranty includes parts and labor that were utilized to get the whole job done.

This means that you will never have to worry about the expense of repairing a leak, cracks, or breakage or the potential insurance problems associated with leaks or cracks. Even if your son or daughter inherits your house or you sell your house the lifetime warranty will be transferred to the one who will own the house. No other plumbing company will offer such great benefits but this is only Mr. Drain Ā® Promise.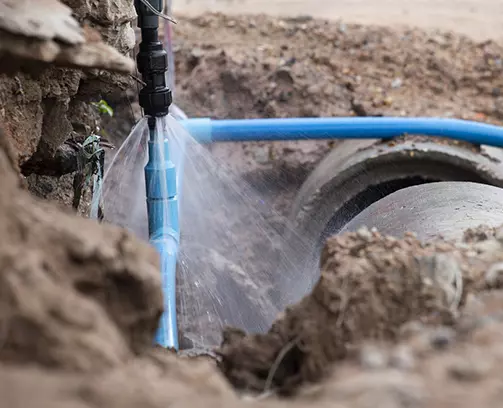 Emergency
Mr. Drain Ā®

Water Line Repair or Replacement

Contact Your Local Mr. Drain Ā® Plumbing today to learn more about Trenchless Sewer Line, Trenchless Water Line, and Trenchless Gas Line repair or replacement process, and its benefits. Save time save money call Mr. Drain Ā® Plumbing today at 1-866-996-7372. Mr. Drain Ā® Plumbers are always available for any emergency water line replacement
Mr. Drain Ā® runs with UTZO
How It
Works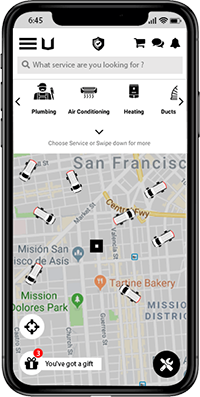 1
Find Mr. Drain Ā® near you. Pick any service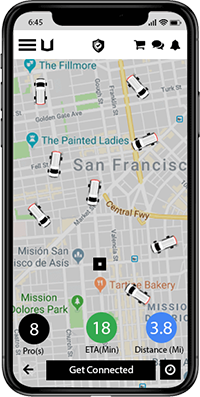 2
Connect to Mr. Drain Ā® in Under a MINUTE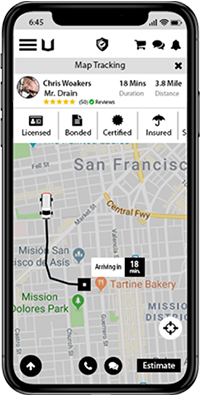 3
See En-Routed Mr. Drain Ā® With Real Time ETA
Valid Until: Feb 28 2023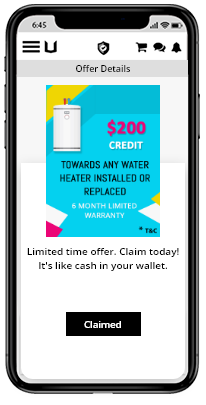 4
Claim unbeatable deals and discounts offered by Mr. DrainĀ®
WHAT WE OFFER
Available for
24/7 Emergency

Service
SKILLED & TRAINED PROFESSIONAL
Call Us Today!

Our Truck might be in your Neighborhood

Plumbing experts at Mr. Drain Ā® are available 24/7 around the clock. We know heaving an emergency plumbing or drain problem is not what you want and wouldnā€™t be the pleasant experience and our service experts will do the best to quickly and professionally solve any plumbing or drain problem. Mr. Drain Ā® is the best Rooter Service in your area save time and save money and make that call to Mr. Drain Ā® today.

Contact Your Local Mr. Drain Ā® Plumbing Today to Schedule a plumbing Service And

Free In-Home Inspection of your Whole House Plumbing & Drain System.
Local Mr. Drain

Ā® Plumbers are a tap away.
You have your options 24/7/365