Hire a Mr. Drain
With Trust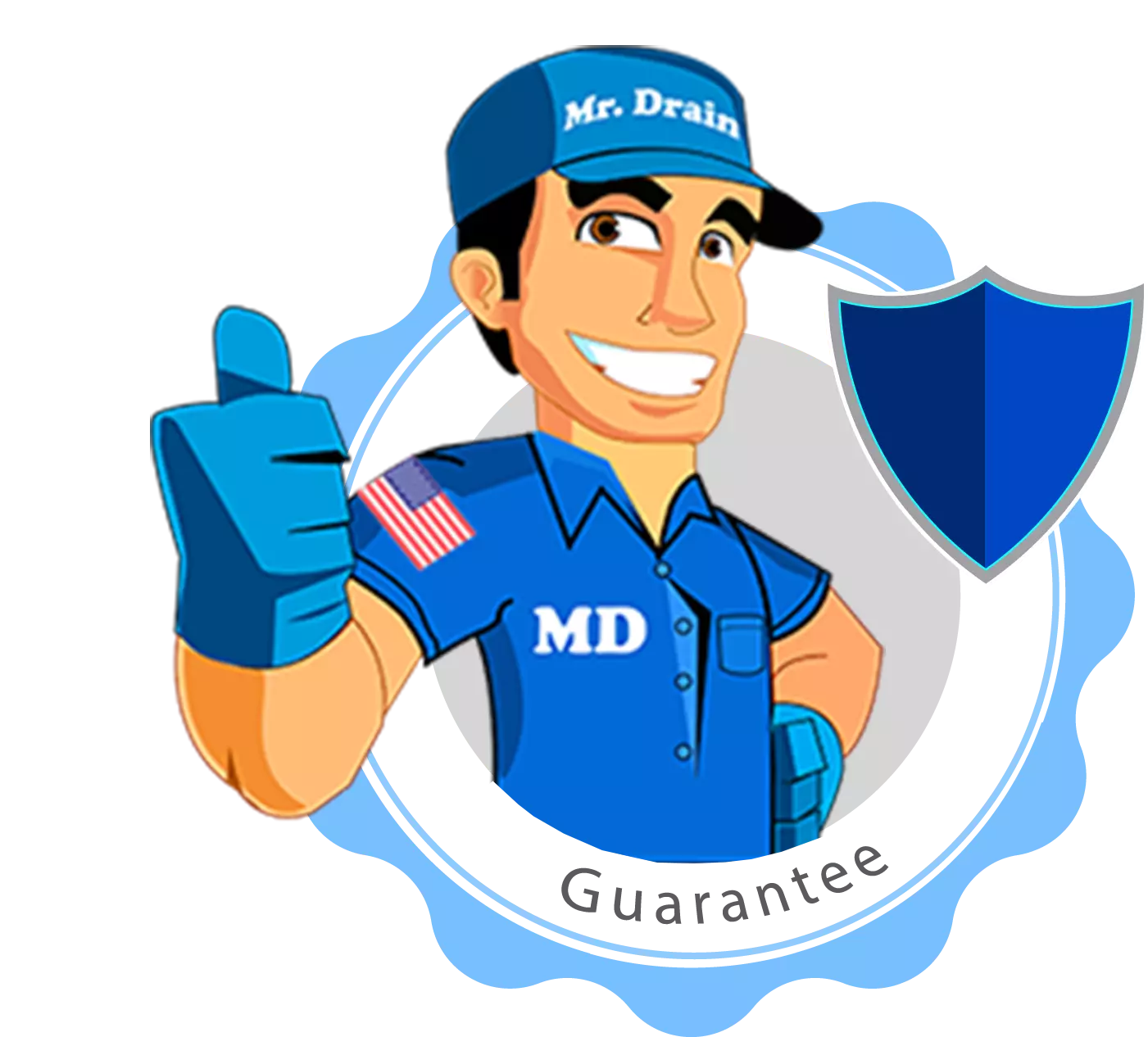 Work performed is covered under Mr. Drain Guarantee.
Only licensed, insured and screened pros.
Pay after work is done
100% customer satisfaction guaranteed.
100% money back guarantee.
Upfront prices with always free estimates.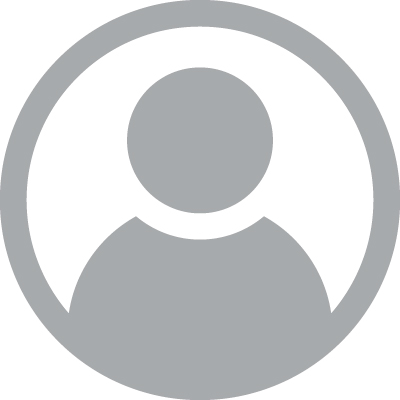 Mian Ahmed
Professional Plumbers in San Jose
I had an excellent experience with Mr. Drain Plumbing of San Jose. Mian and his team arrived on time, and they were professional and knowledgeable. They quickly diagnosed and fixed the issue with my water heater installation, and they also repaired a pipe in my garage. The pricing was very fair, and the work was done to a high standard. I would recommend Mr. Drain Plumbing of San Jose Ca to all.
First call will fix all ® Punctuality is Reality Here ®
Do you have a broken tub? – Is your tub leaking? – Do you want to replace your tub? – Do you want a tub repair service? – Do you want to replace your tub drain? – Do you want to unclog your tub? – Is your tub faucet dripping? Did you break the tub valve? Is the tub faucet not turning off? Are you looking for affordable tub service? Do you have a clogged tub drain? Or Do you have a tub pop-up broken, not working, or jammed?
If you have a high water bill or frequent water leaks then you should replace the dripping or leaking shower tub valve. We are experts in replacing, repairing, and installing any brand of tub. Even if your tub is clogged we are available 24 Hours a Day 7 Days a Week to unclog any tub drain.
Mr. Drain ®
Tub Service
A Bath Tub is a large container for holding water in which a person can take a bath. Most modern bathtubs are made of acrylic or fiberglass, but alternatives are available in enamel, over steel or cast iron, and occasionally waterproof finished wood. A bathtub is usually placed in a bathroom either as a stand-alone fixture or in conjunction with a shower. Modern bathtubs have overflow and waste drains and may have taps also called shower mounted on them. They may be built-in or freestanding or sometimes sunken. Until recently, most bathtubs were roughly rectangular, but with the advent of acrylic thermoformed baths, more shapes are becoming available. Bathtubs are commonly white although many other colors can be found.
At Mr. Drain ® Plumbing our licensed plumbing specialists are masters of all bathtub installation and, bathtub drain repairs, tub valves, water pressure issues, and even installations or replacements. We are the experts to call for your bathroom plumbing solutions. From an ordinary fiberglass tub to a Jacuzzi Mr. Drain ® Plumbers are experts in it. We will either fix or replace your tub.
Project Portfolio from the
Mr. Drain
Mr. Drain ® Plumbers

carry 20+ Years
of Plumbing Experience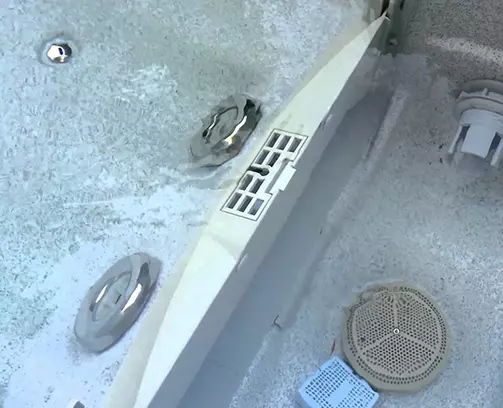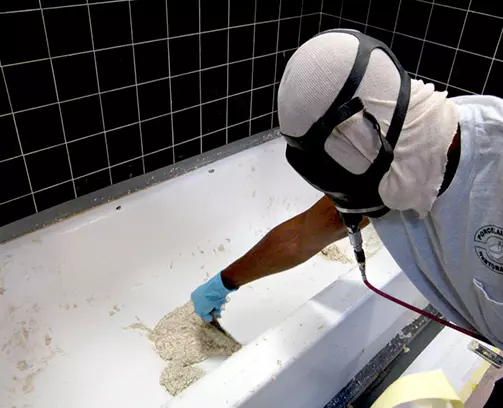 Tub Valve or Tub Faucet
Tub faucets work much like sink faucets, but they are oriented horizontally rather than vertically and their parts are usually larger. A tub valve consists of either single, double, or three handles. A two-handle stem shower faucet has a stem with a washer that presses against a seat to seal off water. A three-handle unit adds a stem-like diverter to direct water up to the showerhead or down to the tub spout. Tub cartridge faucets work just like sink cartridge faucets. A single-handle shower valve consists of a cartridge diverter that turns water on / off and mixes hot and cold water.
Usually, the faucet only turns water on and off; a diverter valve on the spout directs water to the showerhead or the spout. Tub faucets come in different designs, each with slightly different inner parts and valves. The tub faucets can sometimes become a nightmare and need immediate attention. They either break from the handle or at the movement parts in site the faucet. Mr. Drain ® Plumbing has the expertise to fix, repair, and replace any kind of tub faucet around the clock.
Tub Drain Pop-Up
Tub pop-up stoppers move up and down to open or close drains in tubs. Although the stoppers in bath tubs look similar from the outside, the mechanisms hidden within the drains are somewhat different. The knob is the head of a lift rod fastened to a clevis, a connecting bar. The clevis connects to a pivot rod and ball assembly, that is, a rod that runs through a rubber pivot ball and slopes slightly uphill to the tailpiece of the stopper. Pushing the knob and the lift rod down causes the pivot rod to push the stopper up; pulling the knob causes the pivot rod to pull the stopper down. By continuously using the pop-up the moving parts rust, break, and leak.
It may not also hold the water in the tub when pop-up fails, break, get jammed or leak call experts at Mr. Drain ® Plumbing. Our experts can repair and fix any tub pop-up leak. The expert service is just one call away. We are available 24 hours a day 7 days a week.
Mr. Drain ® runs with UTZO
How It
Works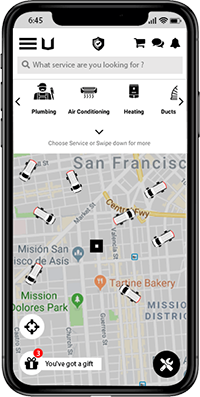 1
Find Mr. Drain ® near you. Pick any service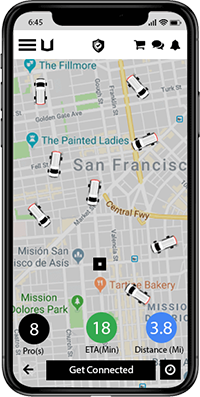 2
Connect to Mr. Drain ® in Under a MINUTE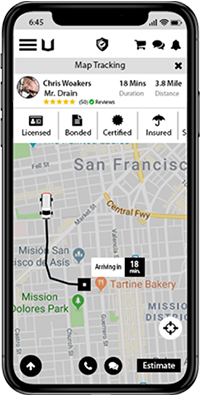 3
See En-Routed Mr. Drain ® With Real Time ETA
Valid Until: Never expired
Mr. Drain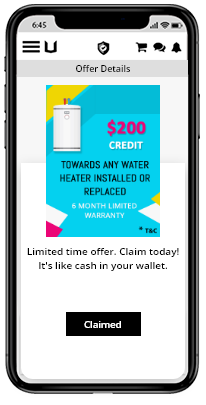 4
Claim unbeatable deals and discounts offered by Mr. Drain®
WHAT WE OFFER
Available for
24/7 Emergency

Service
SKILLED & TRAINED PROFESSIONAL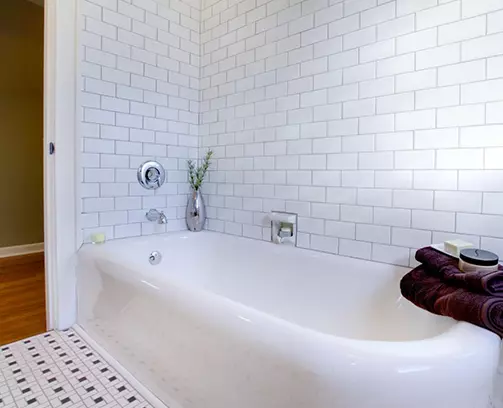 Clogged
Tub Drain

Cleaning

Shower Drain when clogs show their challenges. The clog is caused usually by hair and soap buildup in the trap and drainpipe. It's a rule of thumb when you're taking a shower you should never see standing water in the tub. Properly functioning drains should carry the water away almost instantly. If water covers the shower floor and your feet, you have a clogged tub drain, which will eventually become completely blocked. A Mr. Drain ® Plumbing service technician skilled in tub repair techniques will use one of Mr. Drain ® Roto Jini 100 to clean the drain and debris, restoring it to new condition.
Very rear it happens that the drain snake won't work if you have sludge, grease, and gunk built up for years, but Mr. Drain ® Plumbers got your back we will clean the build-up sludge and gunk using Mr. Drain ® Hydro Flush ® process which will clean the drain lines under 3000 PSI pressure of water. Consider Mr. Drain ® Hydro Flush ® for more details.
Bathtub

Installation

Bathtub replacement may be necessary when your bathtub is worn out, damaged, hard to clean, or simply the wrong color. However, tub replacement should be done only as a last resort. Installing a bathtub can be a difficult endeavor, but with the appropriate skills and knowledge of what to do, it can be installed successfully. It's a good idea to consider other options before deciding to install a new tub. The replacement of the bathtub sometimes requires cutting or break the tub into pieces or enough pieces that it's easy to remove. Mr. Drain ® Plumbing has experts who are skill in the replacement and repairs of bathtubs.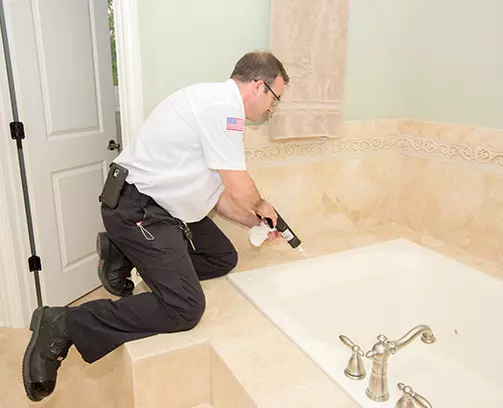 Bathtub Brands We Install
Bathtub replacement
Mr.Drain ® Plumbing install the following tub brands.
Adagio
American Standard
Americh
Aquatic
Atlas International
Axor
Barclay
Bellobagno
Boffi
Carved Stone Creations
Concrete works Studio
Diamond Spas
Duravit
FormFunction Concrete
Get Real
Herbeau Creations
Jamie Beckwith Collection
Kallista
Kohler ®
Lacava
LaufenCeramicware
Le Bijou
Lefroy Brooks (USA)
MAAX Collection
MTI
My Trading Company
Native Trails
Neo-Metro Collection
Neptune
Porcher
Prizma
PSCBATH
Rapsel
Rohl
SeaOtter Woodworks
Sonoma Cast Stone
St. Thomas Creations
Stone Forest
Sunrise Specialty
Terra Viva
THG
Toscoquattro
Toto
Tyrrell & Laing
Unique Wood Design
Urban Archaeology
Victoria & Albert Bath
Villeroy&Boch; Bath & Kitchen
Westover Artos
WETSTYLE
WS Bath Collections
Zuma
24/7/365 Emergency
Faucet Repair and Replacement.

Call Mr. Drain ® Plumbing Experts Near Me Today!
A tub whether built-in, modular, or a single unit will still break or rust over time. Strong materials like fiberglass, stone, acrylic, or tile can leak. These tubs either leak from the joints between the tiles, stone, panels, or the drain. The tup pop-up or the tub drain strainer can also leak due to the rust and cracks on strainer gaskets. Water makes its way out and penetrates through the tiles and grout Into the mortar layer and finally in the slab, crawlspace, or basements. This can cause mildew and other more serious problems to occur if the leak is substantial enough and not repaired soon.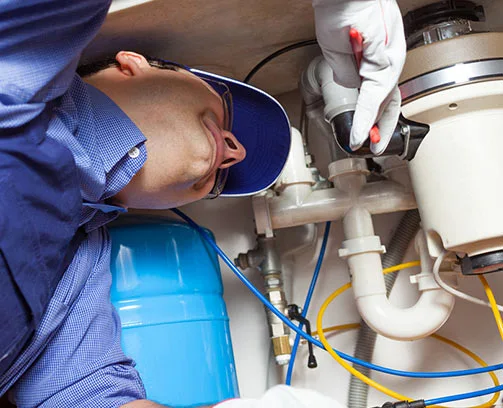 Mr.Drain ® Plumbing experts can solve tub problems and leaks whether it's just a drip or continuously running water through the tiles or drain strainer. Lighting and local Mr.Drain ® Service Expert will come out and inspect the issues with the tub panels, walls, or pan and recommend the best options for the repairs. Contact your local Mr. Drain ® Plumber today for upfront pricing, honest advice, priority scheduling, and preventative plans available for all tub issues in your house today.
Always Upfront Pricing ®
Never an extra charge for nights and weekends ever
Professional and courteous Mr. Drain ® Plumbers
Every Mr. Drain ® is Licensed, Insured and Bonded
Every Mr. Drain ® is Background Checked and Screened
With Mr. Drain ® It Drains or It's Free ®
With Mr. Drain , ® First Call Fixes All ®
Punctuality is Reality Here ® at Mr. Drain , ®
Exceptional Services Guaranteed ® at Mr. Drain ®
Call Us Today!

Our Truck might be in your Neighborhood

Plumbing experts at Mr. Drain ® are available 24/7 around the clock. We know heaving an emergency plumbing or drain problem is not what you want and wouldn't be the pleasant experience and our service experts will do the best to quickly and professionally solve any plumbing or drain problem. Mr. Drain ® is the best Rooter Service in your area save time and save money and make that call to Mr. Drain ® today.

Contact Your Local Mr. Drain ® Plumbing Today to Schedule a plumbing Service And

Free In-Home Inspection of your Whole House Plumbing & Drain System.
Local Mr. Drain

® Plumbers are a tap away.
You have your options 24/7/365
Tub Repair – Tub Leak Repair and Replace – Tub Installed & Repair – Tub Faucet Repair and Replaced – Faucet Company – Plumbing Contractor – Leaking Tub Repair – Emergency Tub Drain Repair, and Replacement – Tub Leaks Repair and Replacement – Emergency Tub Install, Repair, and Replacement Near Me.
Tub Repair – Tub Contractor – Tub Services – Tub Company – Tub Installation – Tub Drain Clear – Tub Drain Repair and Fix