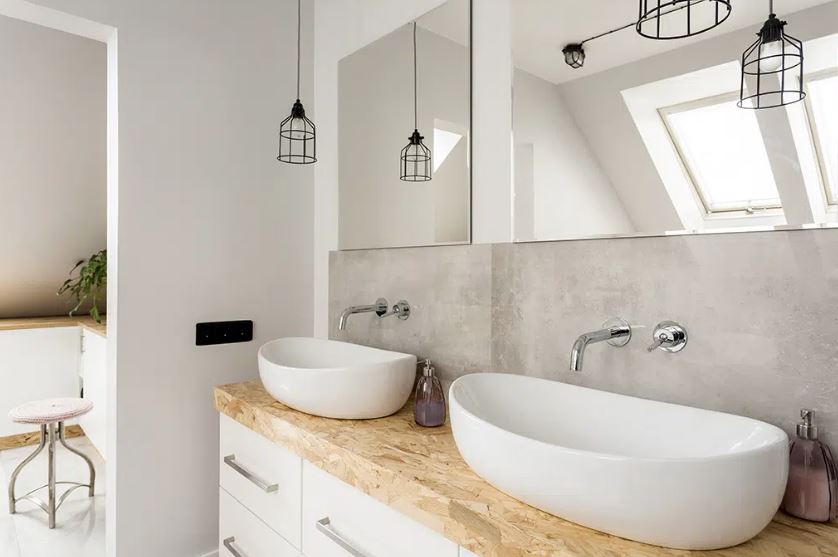 TYPES OF BATHROOM SINKS | TIPS FROM YOUR PLUMBER
So you need a sink, huh? When decorating a new bathroom or renovating an old one, people can often find themselves at a loss when they are making decisions to buy new bathroom fixtures. One of the most crucial of these fixtures is the bathroom sink.
Here is a handy guide to help you decide which sink to get.
Sink Materials
You might be wondering at this point, what are sinks actually made of anyway? Well, here are some common materials that sinks are made from commonly in the market and can be installed by any plumber around.
Porcelain
Sinks are often found in a variety of materials like fire-clay, porcelain and china. They are clay ceramics that are very shiny, beautiful and expensive-looking. Now, they may look delicate and you might be worried about them chipping—because of course china chips like tea cups would.
However, these materials are usually very sturdy and durable and last a long while unless someone throws a large object at them.
Before jumping in to the porcelain decision, you should consult with a plumber whether the sink would be a good option for you especially if your household has children.
Metal Sinks
If you want a sturdy, battle-ready option for children you should consider installing a metal sink in your bathrooms and your kitchens. You will be able to have the sink last a long while even if someone falls onto it, someone strikes it or even if someone throws something at it.
You can have stainless steel or other metal sinks that be easily maintained. However, if you want a copper sink, you should keep in mind that it needs special cleaning equipment and materials.
Another thing to keep in mind about metal sinks is that hard water might negatively affect them and cause spotting after a while so you should make sure that your water supply is free from hard water impurities by contacting a plumber regularly.
Cast Iron Sinks
Cast iron sinks are another commonly used sink that are often available in a variety of colors and have enamel coating them.
You will be able to find any kind of color and variety you want in most markets. Cast iron sinks are great options if you want an easily cleanable option, however, bear in mind that cast iron sinks are not as durable. In fact, these sinks can chip and the chipping will lead to rust in the iron under the enamel.
Solid Surface Sinks
If you want something sturdy, you should go for a solid surface option that is usually constructed from the countertop materials like granite and marble.
You can clean them easily and they will not break. Even if something scratches or chips these sinks, you can simply fix them at home with everyday household products, no plumber needed.
Types of Sinks
So now that you know what sinks can be possibly made of, perhaps we should move on to the common types of sink designs and styles.
Drop-in Sinks
These are often called self-rimming sinks as well. They are installed above countertops and have a finished rim to hold them in place, as a result they can be very easily to fix and install for plumbers.
They will often recommend these as they are versatile, easy to clean and require minimal invasive procedures to replace if broken.
Under-mount Sinks
These sinks are different because the installation process is from below. You can install them under granite, marble or even concrete countertop and can customize them according to your taste.
The plumber installing it can even measure out an appropriately desired sink hole for it. However, this process will make replacements more expensive and complicated.
Pedestal Sinks
These sinks are great options for those who do not want vanities. They are often set up on singular columns and do not have storage options. They can be great option for smaller house or apartment bathrooms since they do not need a lot of space to be set up.
Vessel Sinks
These sinks are often on the top of vanity counters and plumbers will need to perform recessed installation. They give you options to keep a lot of things above the countertop. One of the best features of vessel sinks is their variety since you can get them in glass and ceramic materials.
You can get these installed and measured out by plumbing services.
Vanity Bathroom Tops
If you want a vanity option in your bathroom, you should consider having this one-piece sink. You can get them in tiles, wood, and even granite.
The vanity bathroom top can be used for makeup and beauty regimes and can be very useful. However, their installation process is tricky.
Plumbers will have to measure your vanity cabinet to install them and they would need a coordinating base to make up for the lack of bases already in them.
Contact Us!
We encourage you to give us a call for pipe or slab maintenance, services and repairs at any time throughout the year.
Our technicians can help you with any plumbing problems or emergencies, making your life easier. We hope to acquire a client's trust in our ability to handle their piping system installations and repairs. Our technicians perform repairs with precision, professionalism and expertise.
As our customers will get to see, we are well-equipped with the latest methods, tools and materials.
Come visit us for all your plumbing and sink installation needs. Call us for sink installation if you are in the San Jose,CA area. To book an appointment with us, please call 510 257 1329.